When looking to make improvements to the interior design of your home, flooring is an important element to take into consideration. It needs to be aesthetically pleasing, hard wearing, practical and fitting for the overall style of your home. It is likely that you will have different flooring needs in each of the rooms of your home, depending on what the room is used for. There are some rooms where the floor is likely to get wet and it is important to choose flooring that will not be damaged by water and spills. These include the hallway, kitchen and bathroom. There is a wide variety of materials, styles, and colors of tile. Each are made from different raw elements and have its own features.
When you think of tiles, it's pretty likely that a ceramic tile springs to mind. They're all around us, you can find examples almost anywhere you go. Ceramic tiles have been manufactured for thousands of years and essentially, the process remains the same, which is fabricated using a process of cooling and heating natural minerals&clay with decorative glaze applied to the surface and are baked in a kiln at high temperatures to fuse the glaze to the body.
In general, ceramic tiles are pretty durable and easy to clean. This makes them a great choice for splash backs and bathrooms walls where there's likely to be splashes of soaps, shampoos and sauces.
Technically speaking, a porcelain tile has a water absorption rate of 0.5% so effectively, they're nearly waterproof. They're produced using finer clay than ceramic tiles and they're fired at higher temperatures which makes them incredibly dense and hard,also they are resistant to water, stains and wear and tear,These properties mean that porcelain tiles are perfect for use anywhere (can be used on almost any wall or floor at home as well as busy commercial floors. With high-density, porcelain can be used for indoor or outdoor projects. )Porcelain tiles are also available in a range of colors, textures, and sizes to create the best fit for any style.There are two main types of porcelain tiles, each with their own features, benefits and uses. These are through-bodied porcelain tiles and glazed porcelain tiles.
Through-bodied tiles are those that have a consistent colour and texture through the whole tile. This type of tile does not have a glaze and is composed of clay, sand and other minerals. The clay is pressed and shaped into a tile before being fired at a high temperature. To reduce water absorption, the pressed dust method is used to increase the density of the tile. There are many benefits to choosing this type of porcelain tile. Due to the strength and density of these tiles, they are ideal for heavy surface traffic,such as restaurants, bars and busy retail stores,. They are also resistant to scratches and chips, meaning that your tiles will continue to look great in the years to come. As through-bodied tiles are the same colour throughout, they will look the same in the unlikely event of a chip occurring. You can even use these tiles for the exterior of your home as they are stable in freezing and thawing conditions. Unless the tiles are polished they will be slip resistant, making them perfect for rooms where the floor gets wet.
A glazed porcelain tile differs from a through-bodied tile in that it is coated with a glaze. This is a coloured hard finish on the surface of the tile. They are very similar to regular ceramic tiles. One of the main advantages of choosing this type of tile is that there is an extensive range of options in terms of colour and design. Other benefits are that glazed tiles are strong, dense, stain resistant, non-porous, easy to maintain and suitable for both indoor and outdoor use.
There is a range of different types of tiles and the type you choose is dependent on the project you are undertaking, your individual needs, what you hope to achieve and the look or style you are aiming for. Both glazed and through-bodied porcelain tiles have their own features and benefits, making them the ideal materials for either walls and interior or exterior flooring.
Rather than a material type, this is more of a tile category as tiles are fabricated using porcelain or ceramic, but mimics the appearance of wooden tiles. This provides the appearance and feeling of natural wood, but provides the easy cleaning and maintaining of ceramic or porcelain tile. It is also more durable than natural wood. We can make your wood look tile it your preferred style pattern.
Rather than a material type, this is more of a tile category as tiles are fabricated using porcelain or ceramic, but mimics the appearance of wooden tiles. This provides the appearance and feeling of natural wood, but provides the easy cleaning and maintaining of ceramic or porcelain tile. It is also more durable than natural wood. We can make your wood look tile it your preferred style pattern.
MARBLE
Marble tiles are created from an extremely durable stone, marble. Marble stone is available in nearly any color because of the variability of minerals. In addition, marble tiles can come with various types of finishes, including honed, polished, tumbled, or brushed. This a classic floor tile available for any room in the home. Marble is a highly durable stone that exists in almost every colour due to variability of component minerals. Marble tiles have multiple finishes from polished to honed and brushed to tumbled, making marble an ideal choice for any room in your home. As a natural stone, marble tiles offer high aesthetic value and add both elegance and value to a home. They are costly, however, and care for marble tiles can be time consuming. Their absorbent nature does make them prone to stains, and generally not acceptable for exteriors or in landscaping.
GRANITE
Granite is a type of igneous rock which developed by cooling magma or lava solidifying. A granite floor tile is distinguishable due to the smaller flecks on the surface, but it can vary in color richness, and visual depths that make every stone naturally unique.
TRAVERTINE
Travertine is a sedimentary stone made from limestone that is found in natural mineral springs. During the forming process, several minerals mix together to create the swirls and patterns that give travertine its distinctive character. Travertine tile is popular for its beautiful look and long-lasting durability.
As one of the oldest building materials available to install in your home, travertine is a durable stone that can introduce lots of natural beauty to your decor. Its visibly porous, pocked surface gives it a truly distinctive texture. Available in a multitude of colors, travertine tile can be finished so it appears polished, honed, brushed or tumbled, which means that there's a tile that can create the right vibe in any room you have in mind, from bathrooms to kitchens.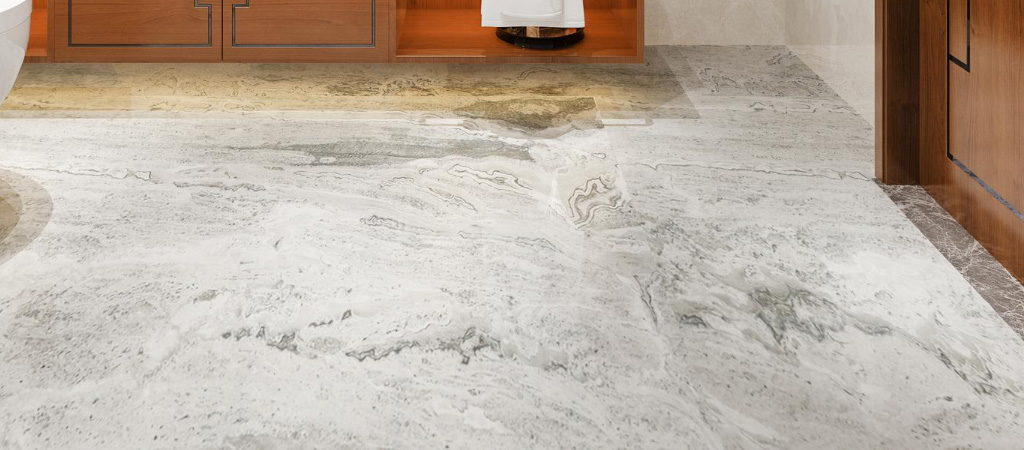 SLATE
Slate tile comes from metamorphic rocks located throughout the world, which is used in flooring for centuries, it comes in a range of colours, such as blue/grey, green, red, orange, or brown. There are often veins of colours running throughout the tile, meaning no tile is identical. Slate is a fine grained tile which is able to be used outdoor or indoor.
Slate is naturally slip-resistant, even when wet or greasy, making it an ideal material for kitchens, bathrooms, or around the pool. It's also durable and can be used to keep rooms cool or warm with circulating systems that run under the tile. In high-traffic areas, slate should be periodically stripped and resealed to keep it looking great, and regular mopping with plain water is required.
ONYX
Onyx is a translucent, calciferous stone similar in makeup to marble. Because it's one of the more fragile types of stone, it's frequently produced with a mesh, resin, or fiberglass backing to help give it strength as a tile.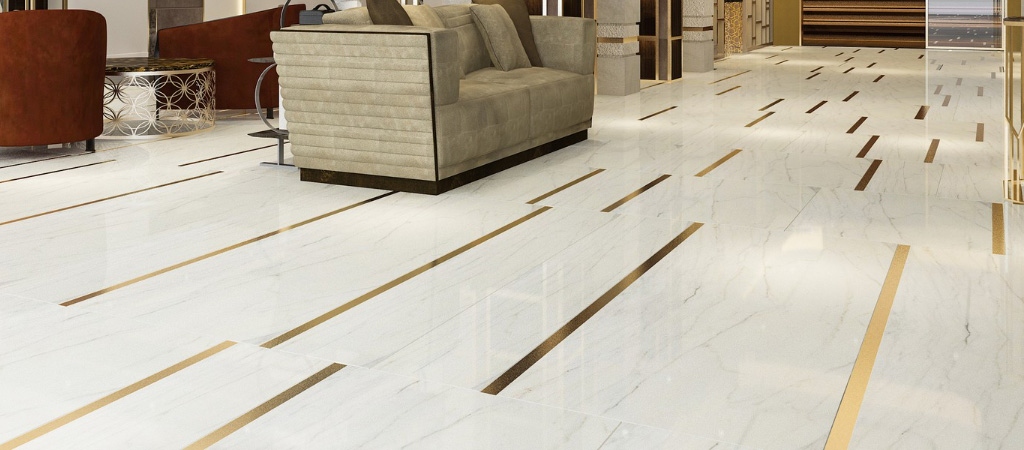 QUARTZITE
Quartzite floor tiles are extremely popular for an elegant appearance that belies its tremendous durability. Created from sandstone and other minerals under pressure and heat for millions of years, the result is unique and luxurious, as well as a versatile choice for the bath, kitchen or for accenting a foyer or other entryway. Numerous colors and textures allow quartzite tile to be used both indoors and outdoor. Its natural appearance makes this metamorphic rock an excellent tile flooring alternative to marble.
STONES & PEBBLES
Stone and Pebble Mosaic tiles provide a beautiful and natural look to outdoor areas. Each of the unique shapes and natural tones are able to provide character to floors, showers, or any other room. You will have a one-of-a-kind pattern, becoming the newest focal point of the area. Mosaic tiles are a natural fit for anyone who loves the rustic beauty and tranquility of nature. Unique in style and look, Mosaic tiles can energize an entryway or shape up a shower and bath with equal appeal.