No bathroom is complete without a right toilet. You might think a toilet is a pretty standard fixture and doesn't require much thought. But surprisingly, there are thousands of options when it comes to choosing a toilet for your bathroom. To keep you from going crazy, this quick guide should give you all the vital information and help you choose a high-performance toilet that will fit your bathroom, budget and backside.
Styles
Invisible concealed toilets
The cistern (or tank) is hidden inside the wall cavity, ceiling or under counter – leaving only the toilet pan to be seen. This style of toilet is very modern in design and takes up little space in your bathroom – perfect if you are working with a smaller bathroom.
The back of the pan sits flush against the wall, meaning there are no gaps between the toilet and the wall at all. This is a solid unit and creates a bold look in your bathroom. Due to no gaps between the toilet and the wall, it is easier to clean.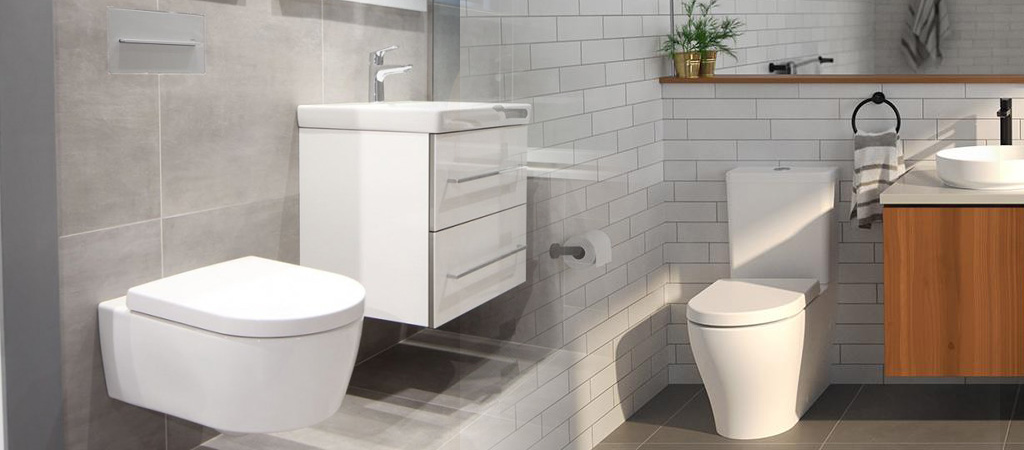 A "one-piece" toilet is actually six to ten individual pieces sculpted into a seamless unit which has both the tank and the bowl. The result is a sleek, hand-crafted toilet with no crevices between the tank and bowl to collect dirt and odors.One-piece toilets are easier to clean and install than two-piece toilets. One-piece toilets are typically found in modern, contemporary and eclectic bathrooms due to their sleek appearance.
A "two-piece" toilet has a separate bowl and tank which are bolted together. Depending on the model, you may be able to mix and match your bowl and tank. If you are interchanging your tank and bowl, make sure the tank securely lines up with your bowl's bolt holes. Two-piece toilets work well with a variety of styles.
Waste set-out/trap way: S-trap or P-trap
After selecting your style of toilet, it is important to choose the correct pan option to suit your set-out and plumbing requirements. Normally, there are normally two trap versions of each pan model: S-trap, P-trap. Normally S tarp will be used in ground floor installations as piping can be done below ground level. Normally P trap will be installed in top floors because installation of pipe line under the toilet will be difficult.
If your house is in ground level S- trap is suggested for your toilet because it is easy to connect the trap to the ground level. If the house is in upper level from the ground like if your house is in first floor or above that you can choose P-trap because it is connected to the wall. Hence, the trap can be selected according to the level of the bathroom from the ground level.
Siphonic or Wash Down?
·Siphonic
In a siphonic action toilet, the trap way fills with water during the flush which initiates a siphonic action which 'pulls' material out of the bowl while the water entering the bowl from the tank through the jet and the rim 'pushes' material out. This simultaneous pushing and pulling completely evacuates the bowl during every flush.
·Wash Down
In a wash down action toilet, the water from the tank pours into the bowl and washes the material down the outlet. It is a "pushing" action only, and does not evacuate the bowl. These toilets have small (4″ x 5″) water surface areas in the bowls that are deep down in the bowl. This is the type of toilet most commonly found in homes.
Most US toilets are siphonic; many European toilets are wash down. Most toilets in Greater China are siphonic while many other countries in Asia Pacific are wash down.
Flushing system/water conservation
There are two types in flushing mechanism single flush and dual flush. Some toilets have single flushing mechanism and some have dual flushing mechanism. Single flush utilizes more water at single use. Always its better to choose dual flush toilet while buying. The advantage of using dual flushing mechanism is it saves water when compared to single flush models. Also in flushing mechanism you can choose internal flushing tank which is called as Concealed tank. Orton offers dual flush toilets which uses 3 litres of water for half flush and 6 litres for full flush. This equates to approximately 26,280 litres of water saved in a year for a family of 4.
Cleanliness
Orton Toilet is treated with an ultra-smooth glaze with antimicrobial properties which is applied on top of the conventional glaze and fired-in to the insides of the bowl. It gives the toilet a super smooth finish to which it stays cleaner because dirt has a harder time clinging to it. It also stays cleaner because it inhibits the growth of stain and odour causing bacteria, mould, and mildew on the surface.
Decide on Round Bowl or Elongated one
Round front toilets are compact to fit in small spaces. Elongated toilets have extra room in the front for added comfort. The spherical shape of a round bowl takes up little space, making it a good solution for a small bathroom.
For a larger bathroom, consider an elongated bowl for maximum comfort and style. An elongated bowl is longer than the round bowl, taking on an oval appearance.
Seat Height
Many people find that a taller bowl is more comfortable. Orton offers "Right Height" bowl options for most models. These have a height of between 400-430mm from the floor to the toilet seat, and is based on the ergonomic height of a chair which is between 350mm – 510mm, making it easier to get on and off the toilet, especially for the elderly, pregnant and disabled.
Size& Rough in
Toilets come in various sizes, so check the width, depth, and height of your available space. For a standard toilet, the rough-in measurement should be between 11 inches and 13 inches. Most toilets bolt to the floor 12″ from the wall (not counting baseboard). This is the so-called "rough-in" dimension. When selecting a toilet, start by measuring your toilet's rough-in. You'll want to measure from wall to bolt-cap, not from molding to bolt-cap.
Quality Assurance 
Orton toilets are fully tested to ensure superior quality and lasting performance. This includes actually flush testing each bowl at the plant before it is put into the box. Each component must comply with Orton's strict standards.